About a year and a half ago I purchased on eBay an old 4×5 R.B. Graflex Series D, vaguely thinking that given that it's a waist-level SLR (historically, one of the first ever, the first patent of which dated 16 December 1902), it might be a way to lure my wife Sara into large format. She loves her waist-level TLR Rollei and her TLR Mamiya C330 and Hasselblad 2000FC and once upon a time considered large format portraiture until she saw me futzing and cursing when first starting off with 4×5 a few years ago. Thank you, no, she said, medium format suits me fine. But, if I promised to load and unload the film for her and convinced her that a Series D was basically a Large Format Steampunk Hasselblad, then perhaps she'd bite. That was the idea, at least.
Well, it turned out that the Graflex had a slow/sticky shutter and so the thing sat in the corner collecting dust, on my list of things to resell or turn into art. I don't have an original photo of it, but it looked something like this one, only in worse condition: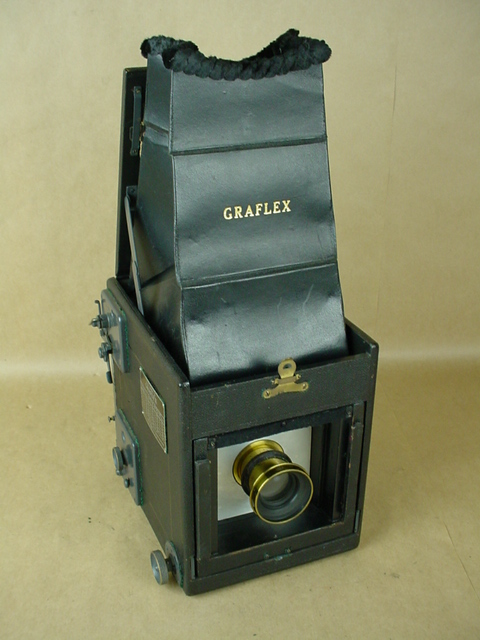 Well, before I could act on reselling or artifying it, fellow fotog friend Brian Cuyler had restored and modified his 3-1/4 x 4-1/4 version of the same camera into a stunning piece that takes 4×5 film but frames up in the out-of-date 3-1/4 x 4-1/4 format. Seems he had a similar shutter issue, but it was easily resolved by adjusting the tension rod. So, inspiration had been provided me. I proceeded to strip the entirely camera down: off with the leatherette! off with the paint on the brass hardware! off with the lens hood! Sand! Prime! Stain! Seal! Buff the brass!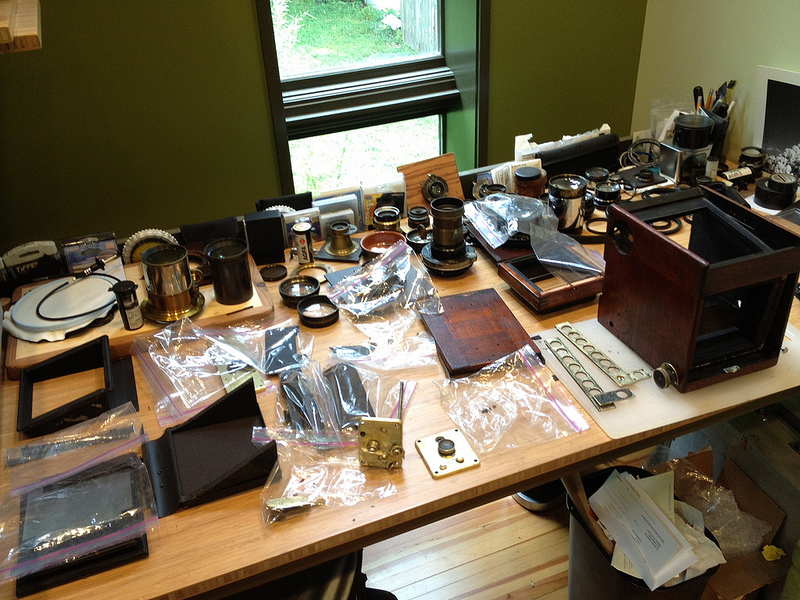 That was the easy part. Now I had to put it back together with only my visual memory and Brian's emailed instructions as my guides. After much trial-and-error and do-overs, I finally got it together and functioning almost like new: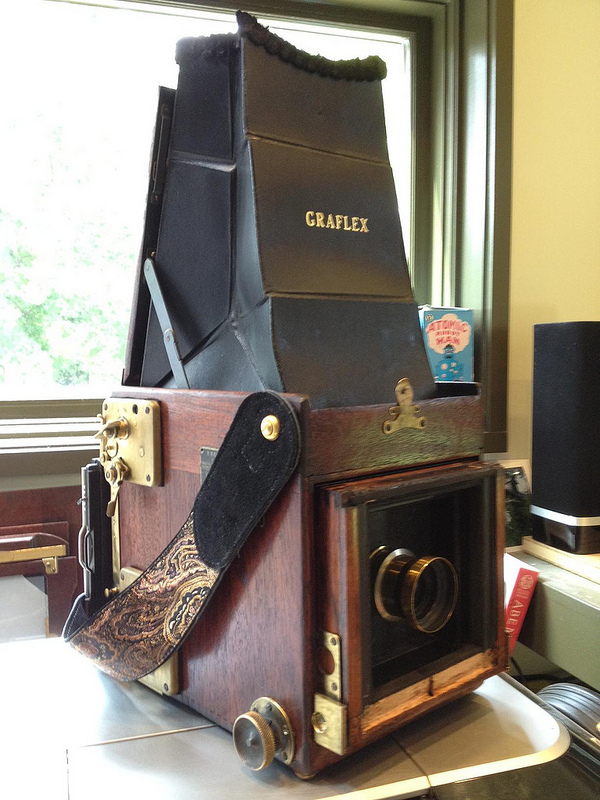 Since this photo I changed the strap attachment to use regular guitar strap lugs and locks — much more secure and cool looking. I also painted that exposed wood matte black. What you see here is the camera with the original lens board in place, but for larger, longer focal length lenses I adapted my Ansco 5×7 lens board set-up to attach to the front: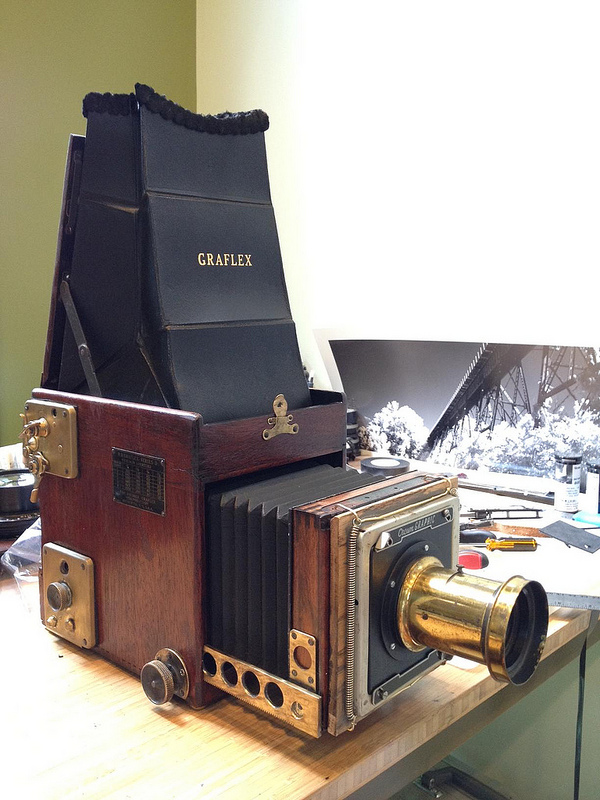 That shot of it is obviously before I attached the strap. The funky awkward ugly set up with the Crown Graphic board on the Ansco board on the Graflex front standard is actually very convenient and flexible because it allows me to use a great range of barrel lenses without having to cut new boards. Only a few focus throughout the whole range to infinity, but this camera will be used mainly for portraits, still life, botanicals, close-ups, and maybe even a little street photography (that should be a hoot!).
I've done a couple dozen test shots and outside of a couple instances of operator error, it works very well. Judging by the exposures, I think the shutter speeds are within a half-stop of being accurate; it's probably a little slow, so I might tighten the tension rod a little more.  Check out my Graflex Series D Flickr set for sample shots. I have to say, it's somewhat liberating to be able to shoot 4×5 without a tripod and without having to focus and then insert the film holder. This is the closet thing to large format point-and-shoot. All I need now is to find me one of those rarer (and more expensive) 5×7 R.B. Graflex Series D cameras to restore….