It's been far too long since I've posted anything on Photaku, but now that the school year is winding down (still have a lot of grading to do, however) I have little excuse for not keeping up my end of the bargain.
I'll ease back into the rhythm of writing posts and articles with a simple announcement: I am now officially a Large Format Whore. I've been doing 4×5 film for a couple years and 5×7 for about a year I think, but it wasn't until I started doing 8×10 with a Kodak 2D View Camera that I could claim the moniker "Large Format Whore," a label I learned from an English lens and camera dealer friend of mine Andrew Plume, a self-professed LFW. I never thought I'd join the ranks, but there's something about that huge negative that renders smaller formats pointless. This is the 8×10 that turned me into a LFW: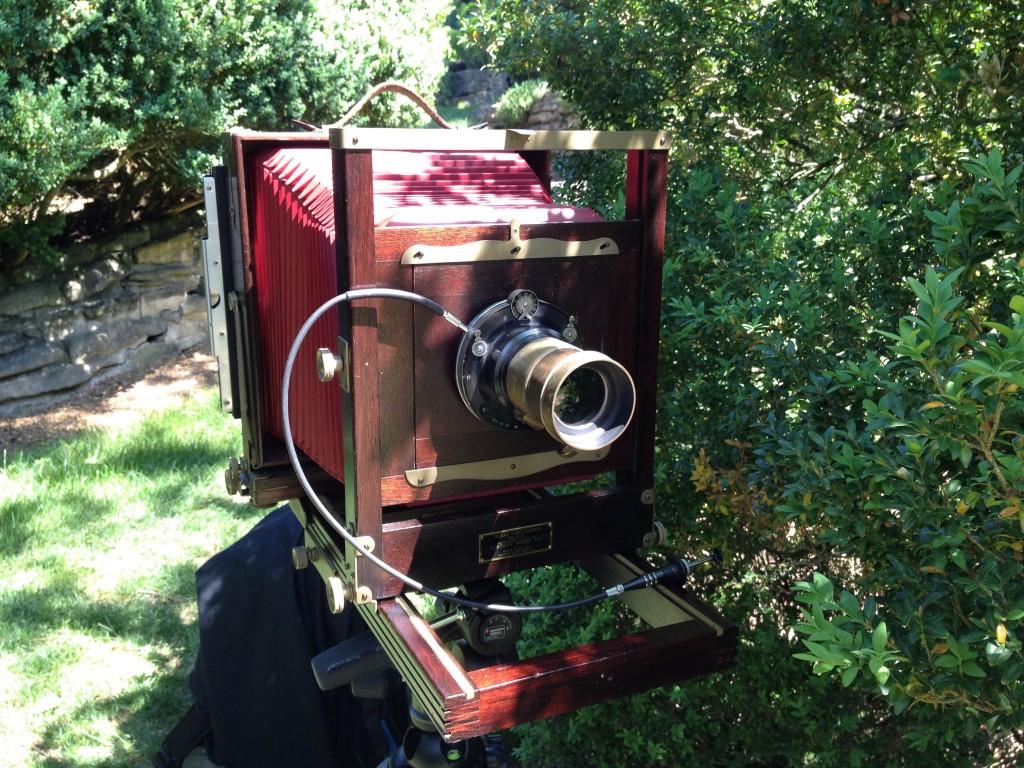 This specimen of a Kodak 2D View Camera is in excellent condition for being from the early 1950s. It has the sliding tripod block and extension rail, bellows are immaculate and gearing confidant. Totally worth the $625 I paid for it. Came with no lens, but I have several that fit it. What you see on it here is an 1880s Darlot Paris magic lantern projection lens of a Petzval configuration, meaning it's essentially a Darlot Petzval portrait lens. This one is unusually  compact for being of 11-inch focal length. It covers 8×10 well for portraits and close-in still life and botanicals, but I have used it for vignetted landscapes as well. Overall it's better suited for 5×7 (the main reason I got it), but having the option of using it under certain circumstances with the 8×10 is a nice bonus. Presently I'm trying out several lenses on it, including an Imagon with its glowy softness.
So far so good as a Large Format Whore…
UPDATE: The lens pictured here I gave away to fellow wet-plate collodionist and farmer from Maine, USA, Scott Anton.